Sabrina Speaks: My Elementary School Super Hero - Mrs. Smedbol.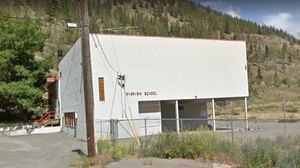 I was in Elementary school during the 70s. It was a time when school districts payed extra money to have a dedicated music teacher in the schools.  Currently, that's rarely the case (in my experience). When my kids were in school (during the 90s), it was their regular classroom teacher that taught them music.  It was a total fluke if that teacher turned out to be musically inclined.  Sadly, none of the teachers that taught my kids could hold a tune in a bucket, bless their hearts. LOL! I often wonder if I would have still become the vocalist that I am today had I had my children's school music experience. 
My music education was amazing and FREE.  At Riverview Elementary in Lillooet, BC, Mrs. Smedbol was our dedicated music teacher from grades 4 - 7.  She taught music to everyone and would wheel her piano from class to class conducting individualized lessons based on your grade. She taught us songs by the coolest artists – Joni Mitchell, Neil Young, Sons of the Pioneers, Julie Andrews, to name a few. But more than that, she took the time to teach 3 or 4 part harmonies to the class. And even more than that, if you were dedicated to your studies and were showing promise, she would mentor you.  I had the luxury of being chosen by Mrs. Smedbol for mentoring. She would invite me and another girl, Katrina,  over to her house after school a few times a week where she taught us to sing complex harmony duets.  Once we had mastered them, she would arrange for us to perform them at school assemblies. 
I distinctly remember one assembly that we performed at.  We had rehearsed the song relentlessly and were very prepared.  The song had something to do with cutting.  I just remember the line 'cutta cut cut cut' was in it.  Anyway, I remember being so nervous that I felt nauseated as I watched the classes enter the gym. Class by class, they were directed to sit cross legged in lines on the floor.  The gymnasium was buzzing with excitement and chaos. My heart was pounding so hard that my whole body was vibrating. It sounded so loud to me that I thought for sure everyone in the gym could hear it. My singing partner seemed nervous as well because she was completely white. We hardly spoke as we waited. 
Our performance was mid-assembly and the short amount of time that we had to wait felt like 1000 years. I can't remember exactly how the proceedings were organized but I seem to remember a myriad of announcements and such.  When we were called to perform, I felt as if I was floating. It was almost an out of body experience I was so nervous.  Mrs. Smedbol was at the front waiting as we walked to meet her. She announced our performance and then started playing the intro melody on her piano. I remember my normally strong singing voice quivering as I sang. Katrina's voice was softer than it had been during rehearsal as well. 
I feel so blessed to have had these opportunities.  To me, Mrs. Smedbol is a superhero. I've since thanked her for taking time out of her busy schedule to give me the gift of music.  She not only taught music in the schools as her regular day job but she also taught choir, hand bells, and mentored students in her home on her own time. This was clearly over and above and I sure hope that she was recognized for all that she had given to her community. I am certainly grateful and would be first in line to attend any event honouring this amazing teacher. 
Do you have a teacher that you'd like to thank? I'd love to hear about it in the comments below.
Mike Speaks: The School Field Trip 
I grew up in a small town in Southern Ontario called Nobleton and at the time Junior High School was grades 6 thru 8. Traditionally, the grade 8's went on a field trip every year to Ottawa to experience the Parliament Buildings and some other things that Ottawa had to offer.  I had a reputation as being a troublemaker so I was surprised when I was invited to go.  I believe almost everybody in the grade 8 class was asked and only a couple weren't allowed to go.  My buddy was one of the few that wasn't allowed.  His parents wouldn't let him and I was told it had something to do with his parents being Jehovah's Witnesses but I'm not sure how that factors into a trip to Ottawa. I digress. I asked my parents, and they said yes, so 2 weeks later I was on a bus with the rest of my classmates heading for Ottawa. Woohoo! 
Ottawa is about 5 hours' drive from Nobleton and when you are 14 years old, 5 hours is the same as forever. We ate the lunches and snacks that our parents packed for us. We read our comic books and we sang a few songs. We played practical jokes on the people that fell asleep and we still had 3.5 hours to go. 
We arrived in Ottawa and most of my class had spent little or no time in a city so the traffic and the high buildings seemed a little daunting. We pulled up to the Lord Elgin Hotel which was a classic old Ottawa hotel directly across from Confederation Park, and about 5 blocks from the Parliament buildings. Confederation Park used to have a huge sculpture of what looked like an inchworm. I believe the sculpture was called the "Traffic Sculpture".  We looked across at it and decided to call the park "Worm Park" for the duration of our stay.  The worm was a perfect meeting place when we needed to gather before an outing. 
The first nights was very exciting; most of us had never stayed in a hotel before. I had stayed in a motel but that was quite different. We played on the elevators. We figured out how the phones worked and called each other a bunch of times. We mooned some people from our windows but we were up pretty high and I don't think anybody saw us.  So the next thing to try was to get into the bar on the main floor.  We decided that the only person who had a chance was Nick because he was going through puberty and could actually grow some hair on his face. By "some hair" I mean about 8 hairs on his lip.  We borrowed an eyebrow pencil from one of the girls, and actually drew a moustache on Nick. Nicks goal was to go into the bar. Order a beer, drink the beer and come back to the room. Nick walked into the bar with his fake moustache, saw an empty stool at the bar and sat down. While waiting to get the bartenders attention, he looked around and realized that he had sat down right next to our history teacher Mr. Reid who was looking at him with a very unhappy look on his face. Before Mr. Reid could say anything Nick hopped off and bar stool and ran out of the bar. I'm not sure if Mr. Reid ever talked to Nick about the incident but it was clear, we needed to come up with better ideas. 
Breakfast the next morning was left up to us.  Most of the class went to the restaurant in the hotel, but a few of us met at "the worm" and ventured out from there. We found Spark Street by pure fluke and while walking around we found a place that served bacon and eggs for $2.  Sweet!  We had bacon and eggs every day that week. 
I noticed that one of the guys I hung around with wasn't having anything to eat so I asked him why. He told me that he wanted to buy a new bike and, with the money his parents gave him for food, he would have enough. His plan was to basically live off of crackers, ketchup, and vinegar for the next 4 days. Like I said, we needed to come up with better ideas. 
Over the next 3 days, we visited the Parliament Buildings, sat in on a question period, saw the Prime Minister's home, saw the Governor Generals home and went to the Canada Science and Technology Museum. On our own free time, we tried to arrange for every person in our class to flush there toilet at exactly the same time. Nothing happened. I bought my buddy a $2 breakfast as he tried to live off of crackers and ketchup, and on Friday morning, we started the long trek home on the bus. Monday morning I caught up with the friend of mine, the one who couldn't go on the trip, and found out that he had spent the week stealing my girlfriend. Oddly, I wasn't that upset.  I think it was because, at that time in my life, having a girlfriend was about having lunch together and holding hands. After grade 8, we went to high school and having a girlfriend meant a whole lot more and was a lot more fun! 
Lessons I learned: 
1: Never try to get into a bar at 14 years of age. That's just stupid. 
2: Never try to live on crackers and ketchup for a week. It's not worth it. 
3: Eating bacon and eggs every day for 4 days won't kill you when you are 14. 
4: Your best friend will try to steal your girlfriend if he can. Keep your eyes open. 
5: If you want time to stand still, take a 5 hour bus ride when you are 14.